Built For


Crucial Product Data in One Spot
Acctivate's Product List is a navigational starting point that instantly uncovers intel for every product to be proactive with business decisions.
On-demand access to pertinent details for any product using a global search with sorting + custom filtering that can saved, shared, or kept for individual use.
Search & view a full history of inventory transactions, sales/purchase orders, and activities for each product.
Prompt inventory analysis in a summarized view for each product over the past 1 to 12 months, including average sales/PO quantity per month, turnover rate, and customer/vendor service levels.
Condensed product details within tabs to know inventory levels & value per warehouse, all prices by type, item substitutions, and vendor info.
An overview of product info (i.e., item type, product class, cost methods, created/updated date, etc.) & characteristics (i.e., units of measure for stocking, selling, purchasing, and packaging) in a compact sidebar.
Accomplish tasks with minimal effort, i.e., edit a product; email & print product info; create a business activity and note for a product; drill-down within the system to different details; and create new products.
Get a Live Demo
We will walk you through a demo of Acctivate Inventory Software. See Acctivate in action and how it can free your business of unnecessary obstacles and provide a clear view of growth and success.
Call us at 817-870-1311
advanced search & filtering
Get an Instant, Centralized View of All Pertinent Information for Each Product
Promptly locate any product by searching globally via product name or other details. Plus, easily create custom filters that can be saved for quick access anytime at an individual level or for company-wide use.
For each product, view well-organized, insightful details immediately with drill-down capabilities and quick actions to be proactive with inventory, warehousing, pricing, vendors, and other business decisions.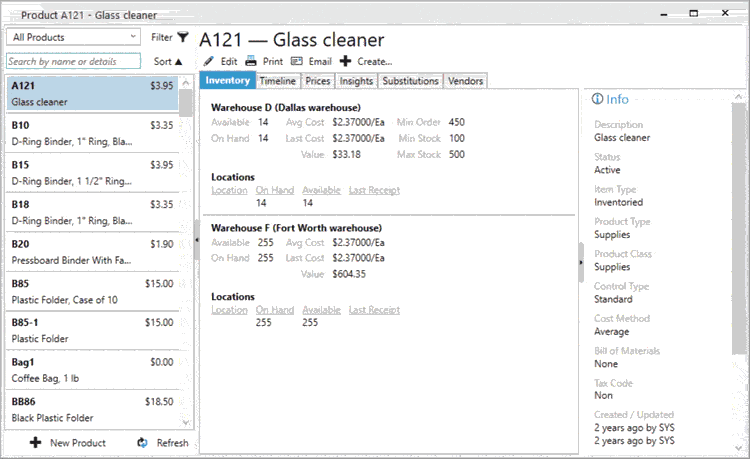 ---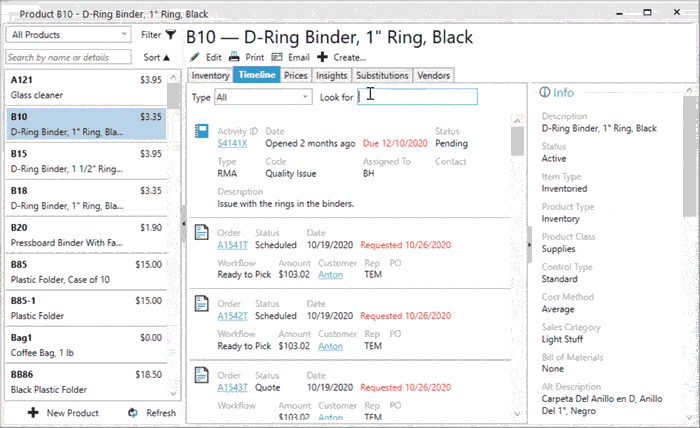 timeline
Swiftly Reference Important Historical & Active Events for All Products
The Timeline tab delivers immediate access to all related inventory transactions: adjustments, assemblies, balance adjustments, counts, issues, receipts, transfers, and landed cost. Also, view any purchase orders, sales orders, notes, emails, and business activities ever entered.
Quickly search and filter through the events and drill-down into each for further discovery.
---
inventory analysis insights
Be Proactive with a Micro View of Analytics of Each Product
In a matter of seconds generate a quick summary of analytical data by warehouse for a product based on the past 1 to 12 months, including average sales quantity per month, average PO quantity per month, turnover rate, customer service level, vendor service level, and minimum recommended stocking level. Also, quickly see the last order date of the product, its top 5 customers, and the price codes it uses.
With this micro view, be aware of important product analytics immediately to make strategic decisions at a more overall level using other system resources.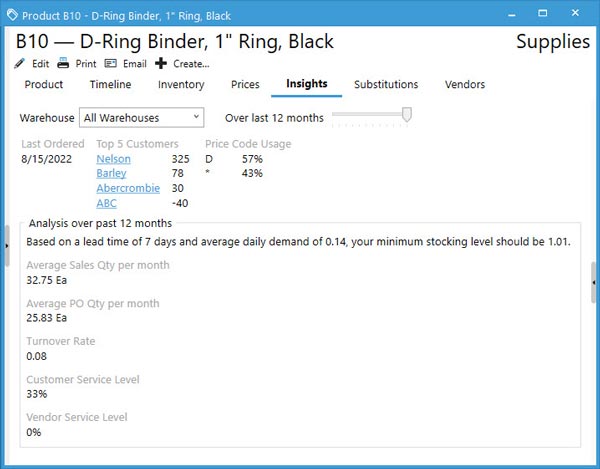 Explore more of Acctivate…
---
Optimize cash flow with full control & visibility over payment processing.
Take Advantage of Advanced Costing with Acctivate Today!​
Schedule a live product tour with an expert.
Call us at 817-870-1311