Why implementing the right inventory control protocols are critical
Within a four-hour time frame you could do some pretty relaxing activities — fly from Dallas to Orlando, enjoy a baseball game, cook a 20-pound turkey, watch The Godfather, or nap. On a stress meter, these would fall on the low-end within the green level.
Then there are responsibilities that must be completed within four hours and if not the impact could be disastrous. In that high, red level of the stress meter is the pressure of responding to a product recall within a four-hour time limit.
It is critical for a business to know the scope of a product recall and where it derived in less than four hours. Such a situation in and of itself can have a business on edge, but there are tools if implemented beforehand can streamline the initial investigation and the process thereafter.
The ideal solution that can shift the needle of the stress meter into the moderate yellow and then low green levels is one that can easily and immediately:
Track inventory that is lot or serial numbered.
Locate the affected product, no matter where it has been, where it is currently or where it's going.
Supply the details of the damaged goods.
After the scope of the recall has been set based on the source, cause of the issue and how many items are involved, depending on the findings, the business may be required to report detailed information to the agency that regulates their products, i.e., U.S. Food and Drug Administration (FDA), United States Department of Agriculture (USDA), Consumer Product Safety Commission (CPSC), or National Highway Traffic Safety. Complying to the regulations and procedures set by such agencies can present challenges for small businesses.
---
Heron Point Seafood uses the right inventory control protocols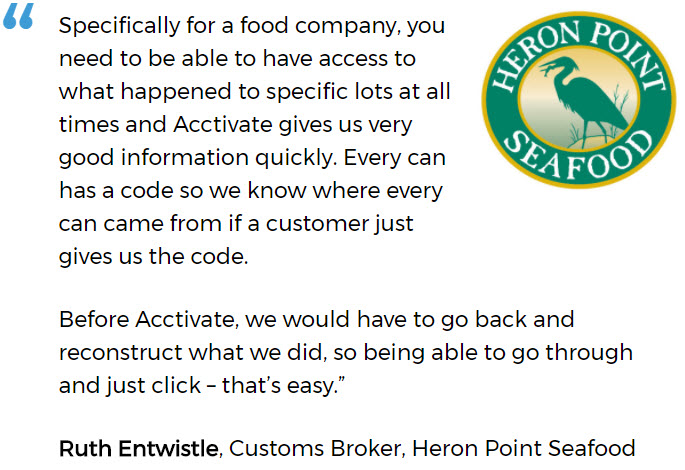 ---
The FDA states in their recent Small Business Guide to FDA, "Familiarity with FDA requirements is very important for a small firm that manufactures or plans to manufacture, sell, warehouse, transport, or import any of the thousands of FDA regulated products. To reach the U.S. interstate market, these products must comply with the applicable laws and the science-based public health rules developed and enforced by the FDA. Although this obligation is routinely fulfilled by hundreds of thousands of American businesses, FDA is aware that for a small firm it can present a challenge."
Easily track inventory & trace throughout the supply chain to come out on top of a recall
The FDA does realize complying can be more of a struggle for small businesses and they do provide resources to help them understand the regulatory requirements, but the right solution to track inventory and trace it throughout the supply chain can be the difference between successfully overcoming a product recall and going out of business. The Small Business Guide to FDA briefly describes what needs to be done in a recall…
"FDA's main concerns during a recall are that the firm knows the location of the suspected lots of the product and has organized their prompt removal from commerce. FDA will work with the firm to identify the cause of the problem and the corrections needed to prevent its recurrence.
Essentially, the procedures for a product recall are determined by the individual company; however, a proper recall system should include provisions for record-keeping, handling of product returns, liaison with FDA, and public information. The efficiency of tracking and removing a product depends on the completeness of the records maintained throughout the production and distribution process."
---
HNB uses the right inventory control protocols

---
Be recall ready with a solution to track inventory backwards, forwards & down to each component
The overall goal of handling a recall is to minimize damages to the public and involved parties. It is crucial to be prepared — it's ideal, in advance, to have conducted practice recalls and have protocols in place.
On top of that, when all along there has been an efficient solution to track inventory, the process moves quicker and enables the business to gain control of the situation better.
According to risk consultant, Katherine Cahill via an inc.com article, "How to Survive a Product Recall", "…a large number of recalls result from issues with the widgets used to manufacture products." She also states that in a recall the business should, "…dig all the way down to your materials suppliers. You need to truly understand where your raw materials are coming from."
Acctivate software has that functionality, making it a proficient solution for navigating a recall. With advanced lot and serial number traceability, Acctivate can track inventory of an unlimited amount of lots and serialized products and their individual components/ingredients. This can be done in real-time or in history, giving businesses control over the recall by helping them trace in all directions, i.e., back to suppliers, through outsourcers or to customers.
By knowing the whereabouts of affected products, businesses can alert distributors, retailers and customers; quarantine the product; and stop any shipments from that point forward.
---
DurumUSA uses the right inventory control protocols

---
Track inventory in detail
From the very start of understanding the scope of the recall and every step of the way thereafter, businesses need to know specifics; and Acctivate enables them to truly track inventory in detail with supporting information at their fingertips. Acctivate enables businesses to manage, view and report on source, expiration date, lot, inspection and quarantine information; and as a business moves forward with the recall process ongoing notes, emails and documents can be stored and tracked in the same screen.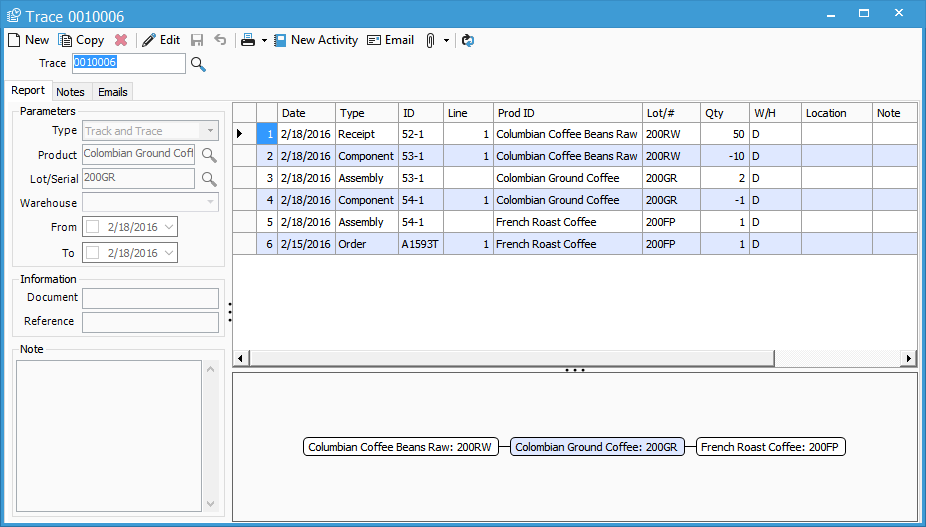 In the "How to Survive a Product Recall" article, Dirk Gibson (University of New Mexico professor and product recall researcher) says that the investigation (which should occur within the initial 4 hours) needs to incorporate very specific measurements. "You don't want to over recall, because it can be scary and expensive. But you can't under recall because then it's ineffective."
In pinpointing the cause of the issue, the article recommends quantifying the defective product by determining if it's limited to a specific batch, a certain day or week of production, or if it was an anomaly that most likely will not reoccur.
Capabilities for advanced traceability can avoid what the article describes as a 'rolling recall' situation. Acctivate's advanced traceability provides and stores information that enables a business to conduct a thorough investigation. In a rolling recall situation "you have to expand the initial recall after several weeks once you've realized you didn't capture everything the first time around."
Cahill states in the article, when an agency has to be informed, to "tell them what you know, tell them as soon as you know it and tell them the facts." Businesses can do this with Acctivate, given the depth of information, i.e., the lot or serial number of every product down to the component level, that can be maintained in one central location of the system.
---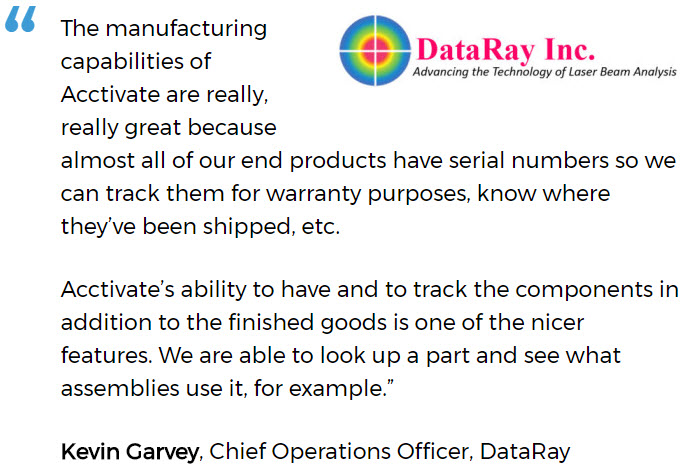 ---
Dealing with the aftermath is also handled with Acctivate – whether it is determined products should be returned to the manufacturer to be corrected, if customer exchanges must be implemented, or if customer refunds are required.
Before a business gets hit with that 4-hour time limit, the ideal strategy is to be recall ready which includes having the right tools in place, such as the ability to easily track inventory that is lot or serial numbered with advanced traceability capabilities, which becomes a requirement, not just a "nice-to-have" feature.
This article provides additional details on how the right inventory software is critical during the many steps of a product recall.
Find out more!
Learn more about Acctivate Inventory Management Software by giving us a call at 817-870-1311 to talk about your specific needs or by simply completing the form and a specialist will contact you to discuss solutions.
Discover Acctivate
Start a conversation with a specialist today to learn more.
Or call us at 817-870-1311