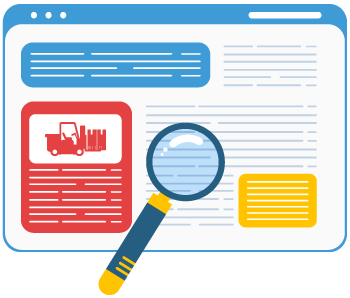 Once an order has been picked, packed, and shipped, batch invoices can be created. Creating invoices is an important step in order processing as it records important financial information while also removing the shipped inventory from your On Hand quantity. You can invoice in the Enter Sales Order window or create batch invoices by using the Order Manager. This page covers creating batch invoices for sales orders.
Batch Invoices for Sales Orders: Initiate Creation
There are 2 places you can begin the process:
Order Manager
Open Order Manager.
Locate the Orders to be Invoiced. These are likely orders with a workflow status of Picked or Shipped.
Check Off the Sales Orders you want to invoice.
Go to Action > Create Invoices.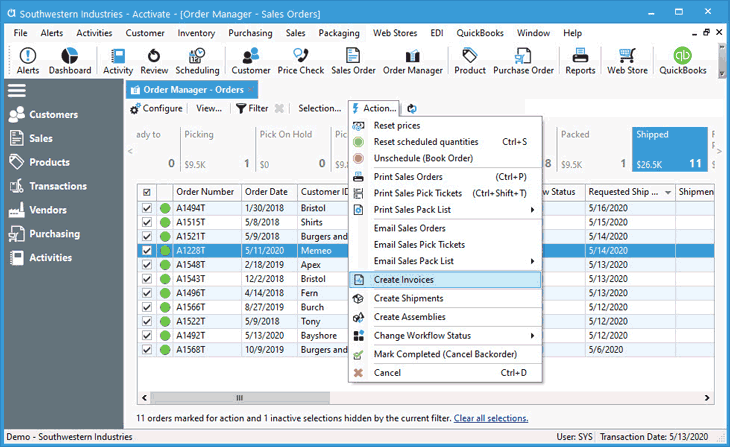 Sales Menu
Navigate to Sales > Create Invoices.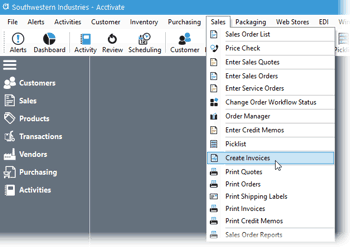 Enter the necessary qualifications for selecting orders for which to create batch invoices, such as workflow status, a range of order numbers, requested ship date, a range of customers, an EDI Trading Partner, etc.
Click Next once all necessary filters are selected.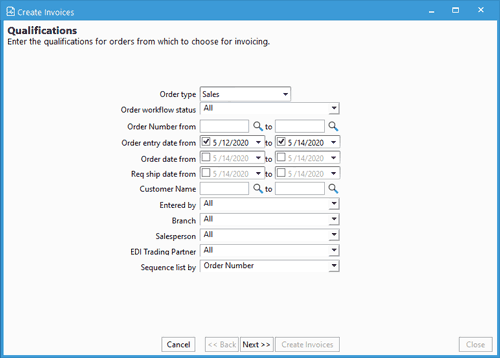 Create Invoices Window
The Create invoices window will appear.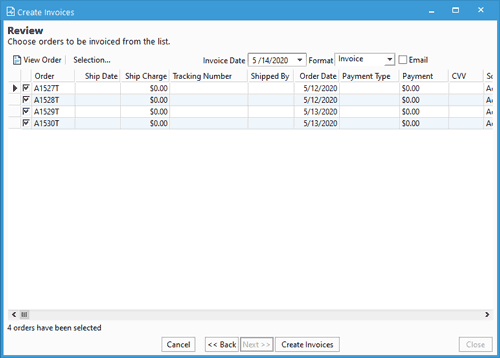 At the top of this window, you can set the Invoice Date, Invoice Format, and select whether you want to Email the invoices. For those customers with an integrated credit card processor, you'll also see a Charge CC box. This will send the CC information to your processor when creating the invoices you've selected.
In the grid below, you will see all the orders you selected. If any orders are unchecked, they will not have an invoice created because they have a Credit restriction. If you check the box to the left you will receive a message about the current credit status for that order and you will be asked if you want to override the status to which you can say yes or no.
Within the grid, you can enter or edit the following fields:

Ship Date
Ship Charge (will be added to invoice total)
Tracking Number
Shipped By
Payment Amount (if there is a payment Type entered in already. This came from the Payment tab of the Sales Order window).
Contact Email

Click Create Invoices.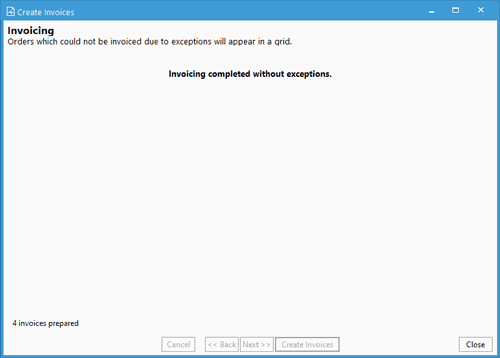 If you had the Email option enabled, the email window will appear and include the invoices for any order that had an Email associated with it on the first screen. This email window has arrows at the top to let you navigate through the different email addresses. All emails sent in this manner will use the same invoice template.
If any invoices couldn't be created due to missing information, such as a lot or serial numbered product missing the lot/serial numbers, you will receive a list of those orders. From that screen you can use the View Order or you can use the Print Errors button to print out a report.
You can close the window.