Packaging Management with the Packaging Manager Module

The Packaging Manager module allows users to package orders into shipments containing multiple cartons for effective packaging management. This gives you the ability to see which products are in which cartons. If you sell and ship to EDI trading partners, you may be required to send an EDI Transaction (856 Advanced Ship Notice) which details the cartons and carton contents in a shipment. This requirement for EDI packaging management would be satisfied by using the Packaging Manager module.
Packaging Management with Packaging Manager has three main sections of steps.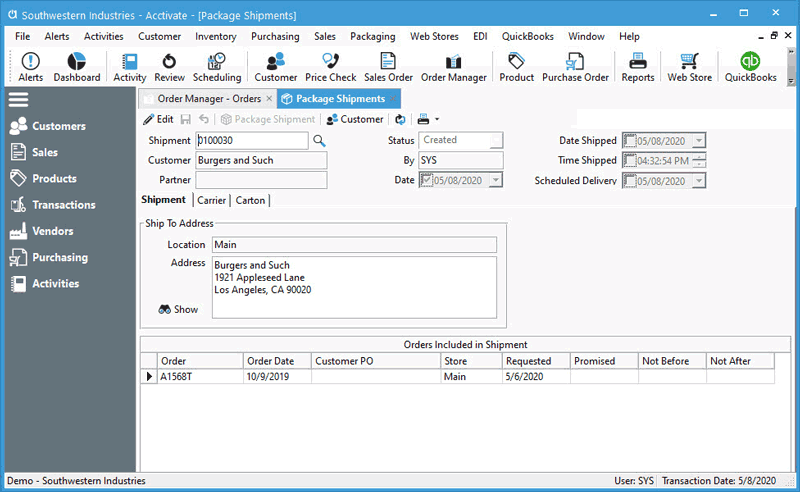 Packaging Management: Configuration Considerations
Before using Packaging Manager, you should be sure that the list of Carriers, Carrier Services, and Ship Via's are configured for seamless packaging management. In the Carrier section of the Configuration Manager you should enter the carrier's SCAC code if it's not already present.
If you want to be able to be suggested by the next action button on the sales order to Create a Shipment, then you need to enable the Show Packaging Shipment button in the Sales Order section of the Configuration Manager. This will simplify the process of packaging management.
Acctivate allows the ability to Auto Package a shipment, also known as "Standard Pack", based on the product's Packaging Unit. The Packaging unit can be defined in the Edit Product window. Acctivate will pack up to the Packaging unit qty per carton.
Additionally, the Specs tab of the Edit Product window allows you to enter in the Inner Pack, Outer Pack, and Weight per stocking and packaging unit. These are required, but can be entered in during the Packaging Management Process.
EDI Trading Partners can have specific Packaging Configuration per partner. Please contact Acctivate Support to discuss the configuration options for EDI Trading Partners.
If you are required to print a Serial Shipping Container Code barcode (SSCC barcode), you need to set the Package Prefix in Number section of Configuration Manager.