Importing Online Orders via Webstore Sync

Utilizing the webstore sync allows users to quickly import orders into Acctivate from your Ecommerce site(s) without mistakes. Removing the need for manual order entry enables the ability to streamline processes with little to no errors. During the import process, Acctivate reads the response from your cart(s) to create orders to be fulfilled by your warehouse(s). The webstore sync can also create customer records, send inventory availability back to your site(s), export tracking numbers for shipments, etc. This gives your customers and Acctivate users real time, accurate information.
For those customers who don't want to start the sync manually, set the specific sync frequency needed and leave the window open. If no errors exist, the sync runs at the set interval until someone closes the webstore sync window.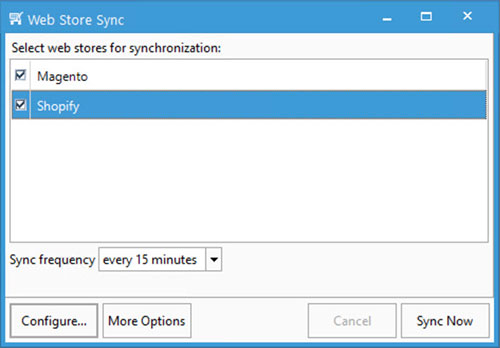 The following steps are followed once the webstore sync is setup with our support team. If you need one setup, create a support ticket.
Sync Webstore Orders
Open the Web Store Sync window by clicking the Web Stores icon on the icon bar or using the Web Stores menu > Web Store Sync.

If multiple templates exist, users can select or unselect as needed to run specific stores or all at one time. In the example for this page, the Shopify store is the only one selected.

To setup an automatic sync interval, select the appropriate Sync Frequency. Keeping the window open after the first sync will start off the automatic sync intervals based on the selection. We suggest doing so on a workstation. This ensures someone will be able to see if the sync stops due to errors.
Click Sync Now.
The next window gives information on what orders and/or customers will be created. With the option to Provide confirmation before importing sales orders checked, the user will see an option to Complete Sync immediately after validation.
Once all data is imported/exported, users can choose to Sync Now, close the window, or keep it open for Acctivate to sync at the next set interval.