Import Sales Quotes and Orders

Acctivate Order Management includes an import utility which allows users to import sales quotes/orders from a flat file. The sales order import utility is designed to dramatically speed up the process of creating quotes/orders in Acctivate for non-EDI or integrated webstore orders. Once configured, users can run the import whenever necessary to create orders from a file. These import tiles are typically saved with unique names and swapped out each time the import is started.
This page covers using the import utility after it's been setup. To create or edit an existing template, check out this training page.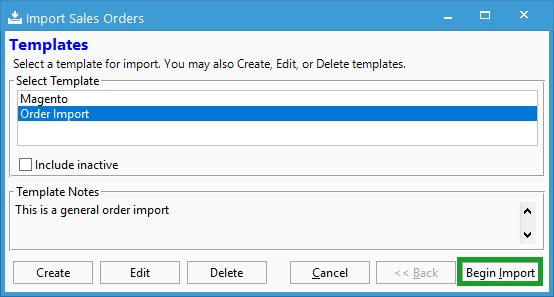 Create Sales Orders or Quotes via Import Utility
File > Import Sales Orders or click Import Orders icon from the icon bar.
Select the Template to use for import > Begin Import.
Verify or select the Source File. Customers typically save each new file with a unique name to keep a history of what's been used in the past but some prefer to overwrite the same filename each time.
Click Next.
The Preview window shows the user the information in the file, as well as gives them the ability to modify data on the fly before import.
Click Next.
If option to validate orders before import is checked, click Validate Orders. Otherwise, select Import Orders.

This adds a step to the import where the data is validated prior to import. The user will be shown any warnings or errors found to resolve before completing the process. Once validated, click Next to be able to Complete Import.

Import Complete will show on screen when finished with the list of orders created. Any unresolved warnings or errors will be listed to review.
Close when done.